Workshops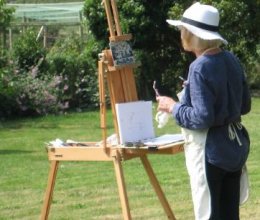 The next 2018 workshop date is to be organised soon. If you would like to be notified please message me to be added onto my mailing list (if you have attended a workshop with me this year you will be on my workshop emailing list). The following details related to the last workshop and has been left on this page to provide info:

"In the Footsteps of Turner"
Wednesday 1st August
@ The Hub, Bodiam, East Sussex (because we are weather dependent, please also keep Weds 8th August free (if possible), as a reserve date – in case of unsuitable weather on the 1st):-
With special permission from the landowners, we will set up our easels to paint the River Rother and Bodiam Bridge with glimpses of Bodiam Castle behind. This is a view that Turner painted (probably in the 1810's or 1820's) and can be seen in his painting "Bodiam Castle, Sussex".
We will use The Hub as our base for a meeting point and buy lunch. Breakfasts also served from 9.00am.
Our painting location is a short drive (2-3 mins) from The Hub. A tent or gazebo will be erected in the field alongside where we will be painting to provide some shade/shelter when needed. A portaloo will also be available for our use.
This is a very special workshop location - offering the opportunity to paint in the footsteps of Joseph Mallord William Turner RA (1775-1851) - one of our most famous and much loved English Romantic painters, known as "the painter of light".
Painting subject matter:- Bodiam Bridge, the River Rother and its beautiful Bodiam Valley surroundings.
Workshop time: 9.30am to 5.15pm.
Address: The Hub at Quarry Farm, Bodiam, East Sussex TN32 5RA
www.thehubquarryfarm.co.uk
Price: £43*
*Price includes the provision of a gazebo (or tent) and portaloo at our painting location. Breakfast, lunch & beverages are not included in the workshop price.
My workshops are suited to those who have some painting experience but are starting out with oils & those who would like to improve on existing oil painting skills while getting to grips with the challenges of working en plein air.
My medium of choice is traditional oil paint and my teaching methods are based on their use, however, you are more than welcome to attend if you use water soluble oils or acrylic paints as many of the techniques I use/teach are transferable. You will need to adapt your usual indoor painting kit slightly and I can advise you on this when you book.
At the workshop you will learn how to find your subject; set up your easel to avoid annoyances and problems later on in the day; composition; atmospheric perspective; colour mixing; application of oil paints and various useful tips to assist you with the demands of outdoor landscape painting.
Students are required to bring their own equipment. Please download the list here:
Equipment List 2018
. I have a limited number of easels that can be loaned and for a small additional fee paints & some other materials can be provided. Please ask for details.
To book or make further enquiries please send a message using the contact form on this website. Indicate the venue and date you are interested in attending and include your email address. I will then reply to your enquiry (usually within 24hrs).
Bookings are being taken now and spaces are limited to a maximum of 8 students per workshop to ensure plenty of one-to-one tuition through the day.
When you book a space I will email you an information sheet with terms and conditions together with a booking form for you to complete and return.
Further dates are to be arranged for 2018. Please contact me if you would like to be notified of new dates/venues.
Painting outdoors has its challenges but the rewards are so great - give it a go!